That doesn't mean it can't be done. But it does mean you need to check these financial items off your list before buying a home.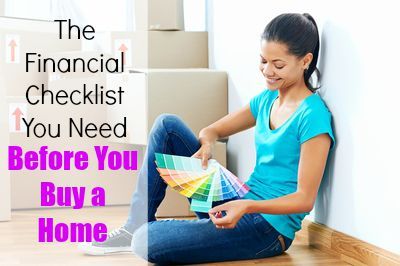 Before buying, establish good habits around tracking and evaluating your monthly income and expenses. Knowing this information will allow you to accurately determine how much house you can afford on a monthly basis.
In addition to understanding your cash flow, you also need a healthy emergency fund. The general rule says you need three to six months' worth of expenses, but you may want to boost your cash savings ahead of a home purchase. Repairs and maintenance on a home aren't cheap, and when something goes wrong there's no landlord to call to fix the problem.
Focus on paying off your credit cards and your student loans. (At the very least, you should have a defined repayment plan for your student loans and have no trouble making monthly payments on those.)
Not sure where to save? Employees with 401(k)s should contribute at least enough to secure a match if it's offered. Anyone can contribute to an Individual Retirement Account, or IRA and many young investors choose Roth IRAs because your earnings can grow tax-free. And if you're self-employed? Consider a SEP IRA or Solo 401(k) for your retirement savings.
Do your research and understand not just these expenses, but also the cost of common repairs, necessary maintenance throughout the year and how much it is to make upgrades or replace things like appliances.
There's more to think about on the financial side of things when you're buying a home, but this checklist will help you cover the basics. Being aware of your financial situation and understanding real costs and what you can actually afford will help you stay on budget when you start house hunting.